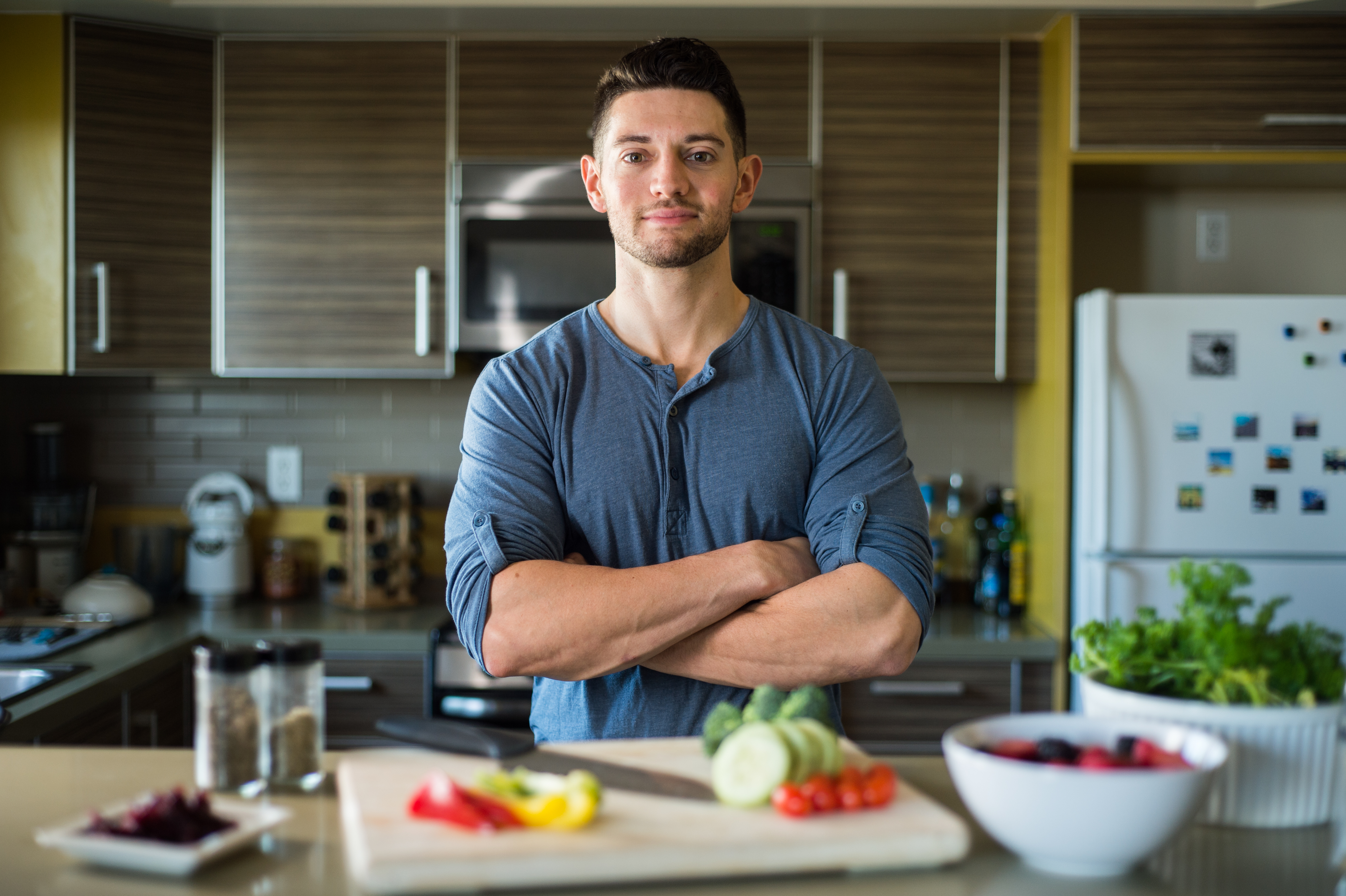 Staying Healthy From Your Living Room
March 20, 2020 // Fitness, Nutrition, Wellness
So now we're stuck inside for the foreseeable future.
Our day-to-day lives will largely be conducted within the walls of our homes. Many kitchen tables will turn into offices, and living rooms into fitness areas. Our home environment will double (or triple) into multi-purpose spaces.
Our indoor health and fitness routines will require creativity and planning. Since space will naturally be limited, and equipment makeshift, I have a few offerings in mind to help you navigate during these scary times within this new setting.
First, let's talk about what exercises are even possible from your living room floor.
If you've ever trained with me, you know how much time we spend doing floor exercises for both mobility (active stretching) and calisthenics (bodyweight movements).
I would go as far as to say that these type of exercises are the most effective for preserving health and fitness.
Not the bench press.
Not the biceps curls.
Not the Peloton or Elliptical.
Floor exercises keep constant tension on the area(s) being challenged, and can be done anywhere on Planet Earth. These movements are simply irreplaceable and essential.
So, in my professional opinion, while being outside of a typical gym environment is inconvenient, we all have a vast amount of highly-effective exercises at our disposal within our living room setting.
Hip Bridges. Hip Thrusters. Pushups. Dips. Wall Rotations. Wall Presses. Planks. Side Planks. 90-90 Drills. Swimmers. Back Extensions. Lunges. Squats. Bulgarian Split Squats….
The list of exercise options, plus all the variations available, is far greater than any machine could ever provide.
We can do this.
YOU can do this.
Use this unfortunate circumstance as an opportunity to construct a regular exercise routine into your day-to-day operations.
Here is a checklist of what's required for building your new at-home fitness routine:
Space

Where can you lay out a mat (or towel)?

You should be able to lay down on your back and fully extend your arms and legs without hitting anything around you

Can you open a window nearby for fresh air/improved circulation?

Assume you will heat up and may sweat
Assume an increased respiration

Scheduling

Can you carve out 15-30 minutes from your daily schedule?

Lunch time makes the most sense

You'll have had some water and maybe a small meal in your system
You'll give yourself a break from the computer screen
You'll then eat immediately afterwards, which in combination will give you plenty of energy to carry you through the rest of your day

Can you hold this blocked time every day of the week?

If you block the time period as non-negotiable, you'll plan around it

Programming

Can you design a workout program that incorporates pushing, pulling, hinging and rotation exercises?

I would recommend 2-3 different programs that either incorporate exercises from each type of movement, or are dedicated to one specific type

*If you cannot design one on your own, read the next section
Once you've established your parameters using the above checklist, you are now ready to choose the routine that works best for your unique setting, schedule and abilities.
Here are a list of options available, including what I can offer you remotely, for your at-home fitness routine:

Fitness Routine Templates
Free Resources
Precision Nutrition's Home Workout Routine
This infographic uses the ideal combination of essential at-home exercises you need to keep your body active and strong. Beautifully arranged and easy-to-read.
Precision Nutrition's Outdoor Workout Routine
If you have a backyard or open area away from others, this outdoor workout routine incorporates it all. As a bonus, this routine is perfect for moms caring for their babies. Just look at the photos! Another well-done piece with great advice from PN.
MikeClancyTraining's Daily Lunch Break
Workout Routine
Every Monday-Friday at 12pm EST, I will livestream a free workout routine on my Instagram profile. Each day will be different, and the routine will be accessible for 24 hours.
(If you don't have Instagram, you won't be able to watch it. It's free, and you are quarantined. Just download the app, follow me, pull up my livestream at Noon and follow along.)
---
Custom In-Home Routines
Want a fitness routine custom-made for your space, schedule and abilities?
During this quarantine, I am offering bespoke at-home fitness programs at $50 per program.
Each program comes with a 15-minute phone/video consultation.
Ask questions, request exercise demonstrations, etc.
To order, email me here and I will send the initial questionnaire for building your custom fitness routine.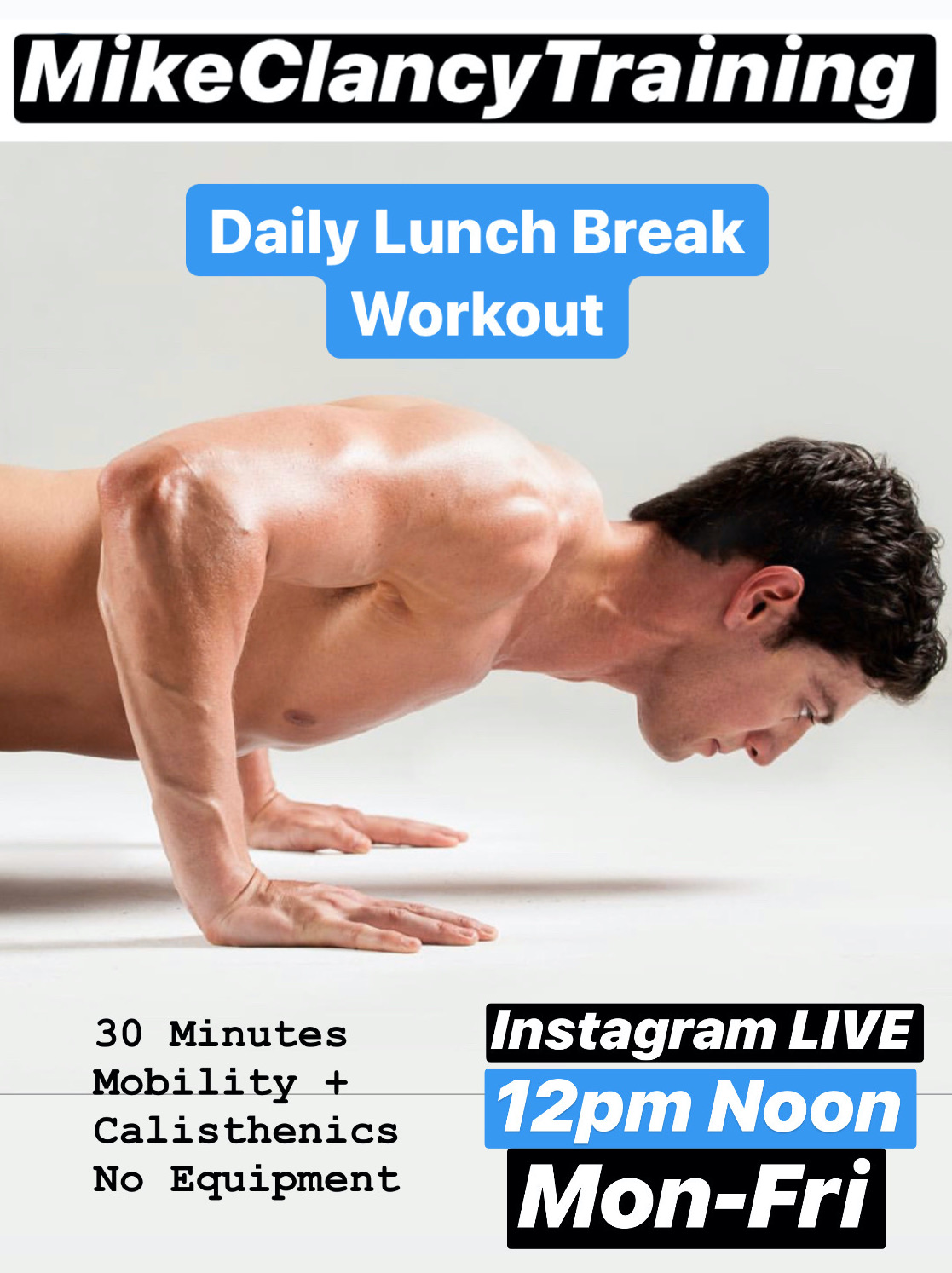 ---
Remote Training Sessions
Train with me in your living room
All remote training sessions are $100/hour and must be scheduled at least 12 hours in advance.
Must be prepaid and booked 12-hours in advance.
Remote sessions are conducted using FaceTime, Skype or Zoom.
To schedule and book, email me here.
---
How To Order Healthy Yet Delicious Takeout During The Coronavirus Lockdown
Oh yes. This is everything.
I could have shared one of the thousands of articles on eating healthy at home, but let's be realistic – you are going to order out for some meals. I certainly will. This simple and straightforward article by New York Post highlights the better choices when ordering Chinese, Mediterranean, Mexican and Thai.
---
Relationship Survival Strategies for Working From Home
How's it going now that you are co-working with your… significant other?! 
Dr. Melanie Katzman (author of Connect First) wrote this Psychology Today piece so you can succeed at your newest adventure.
Read it here.