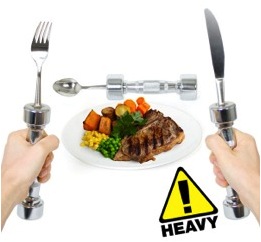 How I Stay Lean: A Look At A Trainer's Diet
June 24, 2012 // Nutrition
It's Time For You To Be The Critic
The new year is upon us and many individuals are beginning to show an interest in changing the look and size of their bodies. With over 30,000 diets registered and marketed, it is difficult to choose an effective, but enjoyable, eating regime. Too many conflicting philosophies and styles lead to confusion and noncompliance. Let me show you my way of eating and you can judge the effectiveness.
Before & After
 My diet was similar, yet included a high-grain count in every meal. I thought that "bulking" up muscle was required to gain muscle fast. I gained alright… about 10 pounds of excess fat.
Without any significant change in my workouts, my body changed drastically just by eliminating the intake of grains during the workweek.
Mike Clancy's Diet
Date: January 10, 2011 (Tuesday)
Meal 1 (6:05am)
3 Organic Large Eggs scrambled w/ mushrooms, baby spinach leaves, topped with Kraft "Mexican Blend" Shredded Cheese

2 tablespoons of Amy's Organic Lentils heated in the microwave

Glass of Ice-Cold Water

(65% Protein, 20% Carbohydrate, 15% Fat)
Meal 2 (9:55am)
1 PowerCrunch Bar (Peanut Butter Flavor)

1 Liter of Poland Spring Water

(55% Protein, 35% Carbohydrate, 10% Fat)
Meal 3 (1:45pm)
"Recharge Plate"

Bowl of chopped bison, grilled chicken, diced tomatoes, grilled onions and peppers in a spicy house blend sauce

Glass of Water

(70% Protein, 10% Carbohydrate, 20% Fat)
Meal 4 (4pm)
3 Handfuls of Planter's NUTrition mix

(30% Protein, 10% Carbohydrate, 60% Fat)

—Resistance Training Workout—

6pm: 1-Hour Duration
Post-Workout Recovery (7pm)
1 Bottle of IsoPure Protein Drink

(40grams of Protein, 0g Fat,0g Carbs)
Meal 5 (8:25pm)
"Recharge Plate"

Bowl of chopped bison, grilled chicken, diced tomatoes, grilled onions and peppers in a spicy house blend sauce

Glass of Water

(70% Protein, 10% Carbohydrate, 20% Fat)
Total: Somewhere between 1,800-2,200 calories (who knows — I don't count nor care)
Review
This eating style is typical for me from Monday through Friday. As you can see, I completely avoid consuming grains and sugars (even fruit). My goal is to eat the way I want and get the results I want. I feed my body various animal sources of protein, vegetables for fiber and nutrients, and good fats. I consume only water besides one post-workout protein drink, so I keep my cravings minimal and my body feeling full and hydrated. My meals require very little effort. In fact, Meal 1 is the only one I cook for myself. It takes less than 10 minutes from start to finish to make a delicious, fat-burning, energy producing omelet like mine. Meals 2 and 4 are instant and portable. Meals 3 and 5 are prepared by a health restaurant ("Recharge" on 76th & 2nd Ave.) and delivered. These choices eliminate the "lack of time" excuse for poor eating habits. This is also very affordable, costing less than $30 a day for all the meals.
For me, it is easy to manage and to stay consistent. Because my body is under a state of low-insulin levels for almost 5 full days consecutively, I am burning off fat for energy and preserving my lean muscle tissue. On the weekends I abandon the no-grain aspect and splurge on indulgences such as sugars and alcohol. I am able to enjoy my favorite foods, splurge in moderation, and still see physical improvements in my body.
Final Thoughts
Now that you've seen my typical eating patterns, begin to track what you eat and how it effects the shape and size of your body. Don't hesitate to implement changes if you aren't happy with the look or progress of your body. Plan and prepare your meals beforehand so you can avoid mistakes and excuses. Track your habits and measure your changes. I wouldn't say "You are what you eat", but rather "your body is a reflection of your habits".