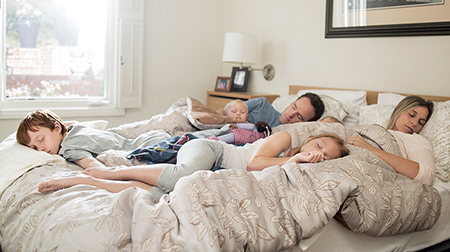 Can Sleeping In On Weekends Help You Live Longer?
November 17, 2018 // Wellness
A new study looked at 43,880 people in Sweden, asking them about their sleep habits and following up 13 years later.
It found that people who regularly slept about five hours or less a night, including on weekends, saw a higher mortality rate— the likelihood of death during the study period — compared with those who regularly got seven hours. People who slept too much, regularly conking out for eight hours or longer a night, also had a worse mortality rate.
But when the short sleepers slept in on the weekends, their mortality rate did not differ from that of the consistent seven-hour-a-night sleepers. That was true only for those under 65; the mortality difference disappeared for people who were older.
Yes, that's right.
There is now scientific evidence proving that sleeping in on the weekends can be beneficial to both your long and short-term health.
The Take-Away: 
Rest and recovery is vital for long-term health, sustained energy and overall weight management.
If your workweek leaves your sleep schedule compromised, consider allocating your nights and mornings for full rest. Not only will you feel better – it could extend your life.
---
"What to Eat Before a Workout"
The Oprah Magazine
Check out this article for my featured comments.
In a recent article for O: The Oprah Magazine, I was featured for my comments on the value of eating fruit prior to a workout:
"Fruit is arguably the best option for pre-workout food," suggests nutrition and fitness expert Mike Clancy, C.S.C.S. "A small piece of fruit satisfies many prerequisites of proper workout nutrition: carbohydrates, sugar, vitamins, minerals, and water. Fruit is also lower in calories, so there's less risk of feeling lethargic or sluggish during your workouts."
Click here for the full article!
---

Baby Steps:
How a Microsoft Exec Changed One Thing At Work & Lost 40 Pounds
Terry Myerson after losing 40 lb. at work.
I love this story.
It's not about some radical diet, nor promotes any unhealthy, unverified health strategies.
Instead, this story is about how Terry Myerson, an executive at Microsoft, decided to turn all his regular meetings into "walking meetings" in order to incorporate more movement into his work life.
"The primary change I made that got the momentum going, it was really that I started to walk, a couple of hours a day," he said.And then, engineer that he is, he did the math. Walking a couple of hours a day burned more calories than sitting.
That one change was enough for him to start seeing progress in his weight and how he felt, which encouraged him further."
The Take-Away:
To make a big change, the secret is to start small.
The idea is to make subtle, consistent improvements and perpetually increase the effort as everything becomes normalized.
---
"How To Workout Smarter" Podcast Episode

"The Joe Rogan Experience" Podcast
This 20-minute segment from Joe Rogan's podcast features MMA coach Firas Zahabi. The topic is How To Workout Smarterand the content here is world-class.
One of the biggest take-aways from this segment is the idea that consistency is more important than intensity.
A good workout done often yields much more adaptation and progress than a superb training session done infrequently.
This style of programming is becoming accepted in the fitness industry, where exercise enthusiasts and clients are embracing the idea of doing some small form of exercise almost every day, as opposed to one or two exhausting workouts per week.
Take a listen– I highly recommend it.
---